Day of the Dead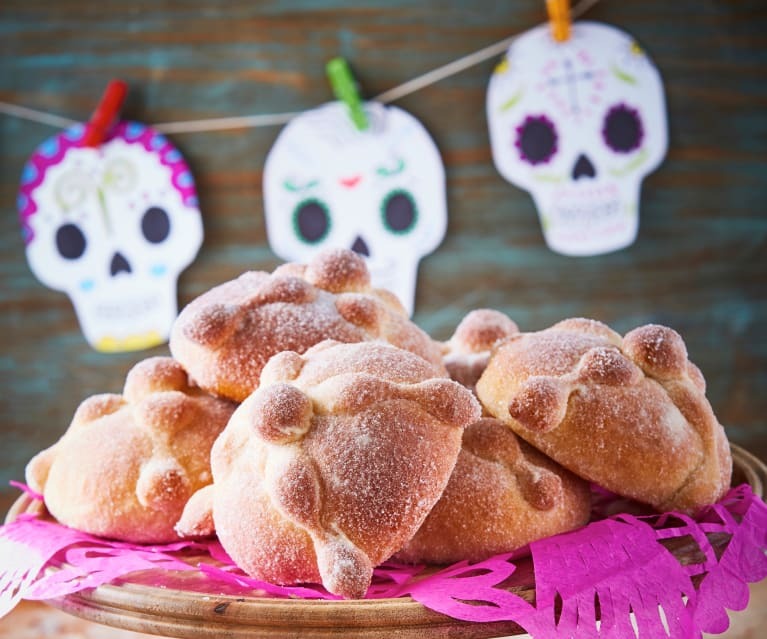 'El Dia de Los Muertos' (The Day of the Dead) is a two-day ceremony in Mexican tradition, where family and friends get together to remember loved ones who have passed away. It takes place every year on the 1st and 2nd of November, the very day after Halloween, though far from being a scary or solemn affair it is a beautiful celebration of life and death and a coming together of the two worlds. Beautiful altars are created in people's homes that are abundantly decorated with candles, flowers, sweets, candies and all sorts of food and drink. These are all offerings ('ofrendas') for the dead and the dishes prepared are often the favorite foods of the deceased as it is believed that their spirits come and participate in the festivities, literally sharing the offerings amongst the living participants. Photographs of the deceased are also often put on the altar so as to bring them into closer contact with those present and many stories and anecdotes about them are shared as a way of honoring their memory.
Pan de Muerto
One of the most typical dishes cooked is 'Pan de Muerto'. This is a type of Mexican sweet bread. At this time of year it can be bought in grocery stores and supermarkets everywhere but better yet you could try to bake your own. There are many different recipes as ingredients vary from region to region. Some will use orange, others anis, or maybe even both. The loaves can be molded into the form of a skull, an angel or sometimes as animals. The most common form is the round loaf with bones, a skull or tears on top.
Recipe for Making Easy Pan de Muerto
So here is a simple recipe for you to try out how to make Pan de Muerto.
Ingredients:
- 1 sachet of dried yeast - ¼ cup of warm water - 2 beaten eggs - ¼ cup melted butter - ½ cup of milk - 3 cups of flour - ¼ cup of sugar - ½ teaspoon of salt - 1 teaspoon of fennel or anis seeds - 1 egg white - 1 tablespoon of water - sugar to decorate
Method
- Mix together the yeast and the warm water in a medium size bowl and leave for about 5 minutes, until foam starts to appear.
- Stir the melted butter, milk and eggs in to the yeast mixtures and set the bowl to one side.
- Sift the flour into a big mixing bowl, then add the salt and sugar and mix in the fennel or anis seeds.
- Make a well in the middle of the flour mixture and slowly stir the yeast mixture into it. Stir with a wooden spoon until they completely combine to make dough. You can add a little more flour if the dough is sticky, or a little more milk if the dough is too dry.
- Knead the dough for about 10 minutes on a lightly floured surface. You want the dough to be smooth and very slightly sticky.
- Place the dough in a large and lightly greased bowl, cover with plastic film wrap and leave it in a warm place so that it can rise. It should double in size. This will take approximately 1-2 hours.
- Preheat your oven or stove to 350 F (180 C).
- Take about ¼ of the dough and put to one side. Then roll the rest of the dough into a ball to make the main loaf of bread and place it onto a greased baking tray or clay pot.
- Divide the rest of the dough into 5 pieces. Roll one of the pieces into a ball and put it on the top of the main loaf. Some say this represents a teardrop. Then roll the other pieces out to make four bone shapes (basically a long stick shape with a knob at each end) and place them on the loaf so that they form a cross, leaving the little ball in the middle of them all.
- Cover it up again and leave it to rise for about half an hour. It should double in size again.
- Beat the egg white with the tbsp. of water and brush it over the loaf. Then sprinkle it with lots of sugar!
- Cook it in the stove or oven for 30-40 minutes, until you see the top of the loaf starting to turn nice and golden brown. Cool the loaf down on a wire rack before eating.
We hope that you enjoy this delicious recipe we created to teach you about Mexican tradition and how to make Pan de Muerto!