The Impact of Inflation on Hispanic Community: How MexMax.com Eases the Burden with Wholesale Prices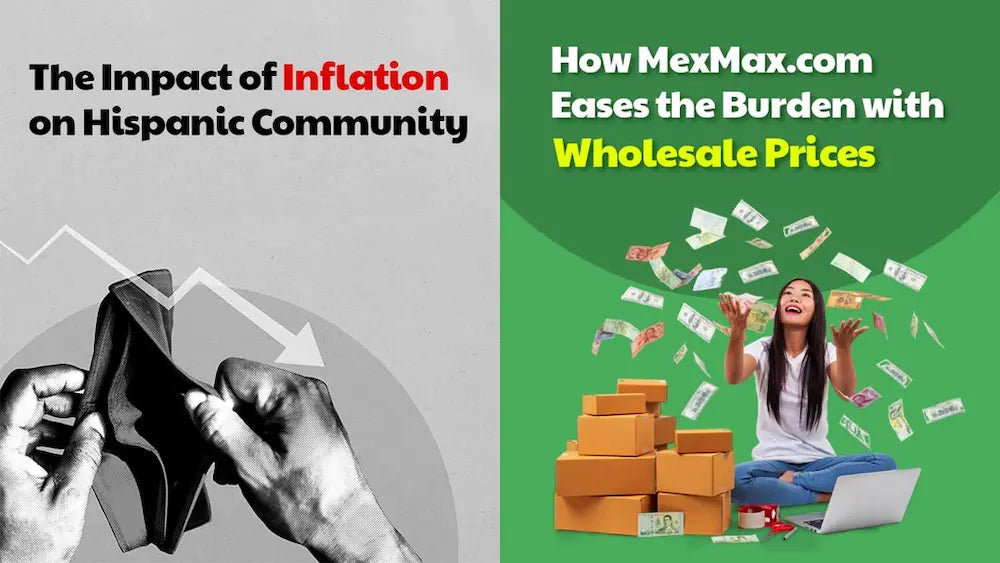 Introduction
Inflation poses a significant challenge for economies worldwide, particularly when it comes to essential commodities like food. The Hispanic community, an integral part of the global population, often faces unique difficulties in coping with rising food prices. However, MexMax.com, a prominent Hispanic grocer, is revolutionizing access to affordable groceries by providing wholesale prices on Mexican products. In this article, we will explore how inflation affects food prices within the Hispanic community and how MexMax.com addresses these challenges by offering wholesale prices.


Understanding Inflation's Impact on Hispanic Communities
Inflation refers to the gradual increase in prices for goods and services over time, resulting in diminished purchasing power. Unfortunately, food prices are particularly susceptible to inflationary pressures. This trend places an additional burden on the Hispanic community, which relies heavily on staple ingredients and traditional Mexican products.
As food costs rise due to inflation, many Hispanic families find it increasingly difficult to afford nutritious meals. This predicament often forces them to make tough choices, such as compromising on quality or reducing essential dietary needs. Moreover, small businesses within the Hispanic community, including local grocery stores and restaurants, may struggle to stay profitable, leading to closures and job losses.
How MexMax.com Alleviates the Stresses of Inflation
MexMax.com understands the significance of affordable food prices and their impact on the Hispanic community. The platform offers a unique solution by providing everyday consumers and small businesses access to wholesale prices that were traditionally exclusive to larger retailers.
Wholesale Access for Everyday Consumers

By granting access to wholesale prices, MexMax.com enables everyday Hispanic consumers to stretch their budgets further. This means families can continue to enjoy the traditional Mexican products they love without compromising on quality or quantity. MexMax.com's extensive product range ensures that customers can find everything they need, from pantry staples to authentic Mexican ingredients, at prices that fit their budget.

Empowering Small Businesses

MexMax.com recognizes the vital role played by small businesses within the Hispanic community. By offering wholesale prices, the platform supports these businesses, allowing them to thrive amidst rising food costs. This empowers small grocers and restaurants to maintain competitive pricing, attract customers, and remain sustainable during challenging economic times. MexMax.com acts as a valuable partner, supporting the growth and success of small Hispanic businesses.

Convenient Online Shopping Experience

MexMax.com's user-friendly online platform provides a seamless grocery shopping experience. Customers can conveniently browse through an extensive catalog of Mexican products, place orders from the comfort of their homes, and have their purchases delivered directly to their doorstep. This convenience saves time and effort while ensuring that essential food items are readily available to Hispanic families and businesses.

Inflation has a significant impact on food prices, particularly within the Hispanic community. MexMax.com, a wholesale grocer specializing in Mexican products, offers a solution by providing access to wholesale prices for everyday consumers and small businesses. By alleviating the financial burdens associated with rising food costs, MexMax.com empowers the Hispanic community to maintain their culinary traditions and supports local businesses. With MexMax.com, affordable groceries and authentic Mexican ingredients are just a few clicks away, enabling our community to navigate inflation with greater ease and financial stability.