Top Tips for Treating Forehead Wrinkles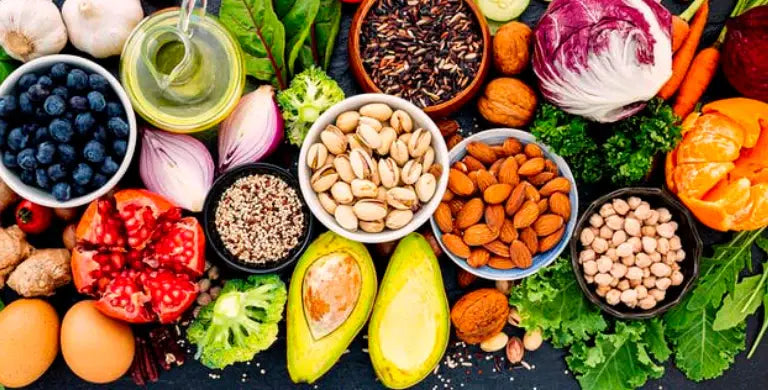 Well we all know that wrinkles are an inevitable part of the ageing process. As we get older our skin starts to lose collagen and wrinkles begin to appear and this is something we unfortunately just have to accept. That said however, there are a number of healthy habits you can acquire to help minimize the appearance of these fine lines and wrinkles and to help keep your skin as young looking as possible.
It's nothing new that a healthy lifestyle is extremely beneficial in more ways than one in improving your quality of life and will vastly contribute to how well you age. Let's take a look at some simple and easy ways to keep those wrinkles at bay, without having to reach out for the botox!
1. Drink Plenty of Water
The importance of drinking plenty of water and staying well hydrated throughout the day is pretty common knowledge. Our bodies are made up of 60% water and internal organs such as the brain, heart, lungs and kidneys contain between 70-80% water. Just to name a few of its benefits, water is needed in order for our internal organs to function, it regulates our body temperature, flushes out body waste in the form of urine, lubricates your joints and helps deliver oxygen to the whole body. Your skin contains 64% water, so by drinking water you are keeping the skin moist, nourishing it from the inside out, helping to keep it nice and supple. This is actually much more important and effective as external hydration in the way of using moisturizers.
2. Maintain a Healthy Diet
What you eat is what you are… we've all heard this a million times, yet is it so true. The quality of your diet will not only directly affect your quality of life, but also the quality of your skin. Processed food tends to be high in sugars, salt and fat and low on nutrients. This includes; sugary drinks, frozen and ready made meals, most packaged breakfast cereals, processed meat like sausages, hot-dogs, salami, ham etc, cakes, crisps, candies, cookies and biscuits. Obviously it is almost impossible to completely avoid eating any of these at all times without implementing a super-strict detox diet but whenever possible eat as much fresh fruit and vegetables as possible and opt for home-made meals using whole-grains (brown bread, brown rice, oats, brown pasta, etc) instead of white, refined grains.
3. Reduce Your Stress Levels
Leading a more stressful lifestyle or being under constant stress can be a contributing factor for more wrinkles. First of all, you tend to frown more when you are stressed, which will increase furrows in your forehead. Secondly, stress creates a hormone in the body called cortisol, which decreases the production of collagen. Collagen is the main protein found in your body, making up about 30% of the body's protein composition. It is abundant throughout the body but is mainly found in your skin, bones, ligaments, tendons and connective tissue. It keeps your bones strong and allows tissue to stretch and be flexible, so it's basically responsible for your skin's elasticity. Conclusion: we don't want cortisol we want more collagen!!!
To reduce stress levels it is recommended to exercise regularly, eat a healthy diet, get plenty of sleep, limit your caffeine and alcohol intake, take long walks, listen to relaxing music, practice yoga, meditation or any other relaxation techniques and to spend time with close friends and loved ones.
4. Face Yoga
Face yoga is a technique that uses massage and facial exercises to stimulate the muscles and skin on your face. The results have proven to be extremely effective to soften and relax facial muscles and help to reduce the appearance of fine lines and wrinkles.
There are numerous exercises for different areas of the face and neck. To specifically treat forehead wrinkles you can use a technique called 'The Brow Smoother', which helps to relax the large muscle in the middle of your forehead called the 'frontalis'.
The Brow Smoother
- Start by putting all your fingertips in the middle of your forehead facing inwards so that they are touching.
- Now gently press your fingertips onto your forehead and slide them out very slowly towards your temples.
- Repeat this action at least 10 times.
5. Sun Exposure
Overexposure to UV rays is one of the main causes of premature aging of the skin and other sun related skin damage such as dry skin, leathery skin, sun-spots or dark stains and of course, the appearance of fine lines and wrinkles. You don't necessarily have to avoid being in the sun but there are a few good habits you can stick to in order to reduce the sun's effect on your skin:
- Try applying sun-cream every day, even if it is cloudy. Alternatively there are moisturizers that contain UV protection.
- If you are going to be in the sun, apply sun-cream 30 minutes before going out and re-apply it every 2 hours.
- Try wearing a hat and/or sunglasses to cover up your face and protect the skin around your eyes.
- Avoid being directly in the sun at the middle of the day when UV rays are strongest. This is generally in-between 10am and 4pm.
6. Skin Care
A good skin care routine can drastically help reduce signs of ageing. The earlier you start to implement one, the better, either in your 20's or 30's, it is never too early!
Here are my recommendations:
Daily Cleansing.
Cleaning your skin is an absolute must every morning and every night. Creamy cleansers tend to be more nourishing and are therefore better for dry, aging skin.
Exfoliation.
A gentle facial exfoliator does wonders to cleanse and purify blocked pores, brighten up your skin and boost circulation. Ideally you should exfoliate once or twice a week.
Facial Serum.
Once your skin is clean then you can use a facial serum. This goes on before moisturizer as it is much lighter than moisturizer and is absorbed quickly into the skin. It contains active molecules and ingredients that penetrate the skin for maximum effectiveness. It can be used both in the morning and at night. Choose a serum that is right for your skin type and specific needs. There are serums that are anti-aging, skin brightening, hydrating, for acne prone skin or for reparative and skin texture improvement, etc.
Moisturizer.
We apply moisturizer after serum as it will seal the serum into the skin and maximize all of its potential benefits. When you choose a moisturizer keep your skin type in mind and choose one that is formulated to revive your particular skin tone. PONDS have a great selection of affordable moisturizers and skin care products.
I would recommend a good day cream, which is a little lighter, such as PONDS CREAM REJUVENESS FOR WRINKLES and a Night Cream, which is a little heavier to lock in moisture over-night, such as PONDS CREAM REJUVENESS NIGHT WRINKLES. These both have active anti-wrinkles components.
Ponds Cream Rejuveness
Eye-Cream
Last but not least you can use an eye-cream. This can minimize puffiness around the eyes, reduce bags or dark circles under the eyes and lessen the appearance of fine lines and wrinkles.
Hope you enjoy our tips and here's to a healthier and younger looking you !!!