BIRTHDAYS IN MEXICO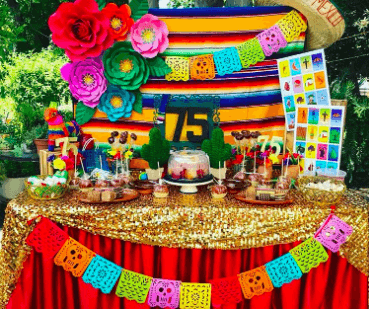 It's a well known fact that celebrations are a huge part of Mexican culture. Pretty much everything in Mexico is vivacious and full of color. So if you are looking to liven up your birthday celebrations a Mexican themed Birthday Party could be just the thing. Here are some quick and easy ideas of how you could do it, along with some interesting facts and info about some of the Mexican traditions associated with birthdays.
Decor
 Mexican Themed Birthday Decorations

Decorations are easy. All you have to do is create as much color as possible. Try a brightly colored tablecloth, covered with a Mexican table runner. Use different colored plates, cups and serviettes. Basically the more color the better! You could put up vibrantly colored balloons, colored flags, tasseled bunting pom-pom garlands and/or crepe streamers. You could also hang a typical Mexican banner on the front of the table or just above it as these are a must at all Mexican celebrations.  
Mexican Banners
 These Mexican banners are traditionally used to decorate all sorts of celebrations, from birthday to the most important event of the Mexican calender 'Day of the Dead'.  They may be strung across the ceiling or hung on tables to decorate them. Their colors and vibrancy instantly provide a party atmosphere to any occasion. They are called 'papel picado' (cut up paper) and are representative of any Mexican fiesta. It's a traditional Mexican art that involves intricate designs being chiseled and cut out of stacks of colored paper. The bits of paper are then all strung together and hung up to decorate the event. You can try making your own at home or buying them at the store.
 

Food

 Mexican food is also colorful, lively and absolutely delicious and makes for a perfect buffet spread. There are so many yummy dishes to choose from but my recommendations would be any combination of; tacos, enchiladas, burritos, quesadillas, guacamole, salsa dips, cheese dips, nachos, salads, frittatas, tortilla and spicy chilli corn.
Mexican style birthday buffet


Drink
Beer and tequila shots are an obvious choice, although there are many delicious cocktails typical of Mexico that you could also opt for. You could even serve them in the traditional Mexican clay cups.

Margarita cocktail

A classic Margarita (mix of tequila and triple sec) is refreshing and delicious, or you could try a Michelada (Mexican beer cocktail). The 'Cantarito' (tequila and grapefruit soda) served in the typical clay cups will instantly give an authentic touch to the event. If you are looking for some non-alcoholic options try out some fresh fruit juices (Aguas Frescas) or Champurrado (Mexican Hot Chocolate).
 

Piñata

 For a fun party game you could organize a 'piñata'. In Mexico, as in many other Latin American countries the piñata is a must at any child's birthday party. It is a cardboard or paper mache shape, stuffed full of candy. 

 
La piñata
Guests take turns to hit it with a stick and eventually it breaks and all the candy falls to the ground. The original piñata was shaped like a 7-pointed star and each point represented one of the 7 deadly sins. The stick itself represents love that will help one to overcome the deadly sins and destroy them and the candy inside the piñata signifies a sweet new beginning.
 Mexican Birthday Traditions
 So, besides the piñata, the food, drink and decorations, what other birthday customs and traditions are unique and special to Mexican culture? 
 The Mexican Happy Birthday Song
 There is a special song called ´Las Mañanitas´ that is literally the Mexican equivalent of 'Happy Birthday to You'. It is traditionally sung in Mariachi style but there are now more modern pop versions. It is often sung early in the morning as a serenade to wake up a loved one, and/or by  guests at a birthday party just before the candles on the cake are blown out.
 The Birthday Cake and 'La Mordida'
 A typical birthday cake used in Mexico would be the ´Pastel de Tres Leches'. This is a delicious, moist sponge cake covered in a sweet mixture of 3 different kinds of milk products (los tres leches); condensed milk, evaporated milk and whipped cream.
 There is a very funny Mexican custom called ´La Mordida´(the bite), where the guests will sing a specific song to encourage the birthday boy or girl to take the first bite of the cake. When they lower their head to do this someone will literally push their face into the cake…!
 Special Ages Celebrated in Mexico
 Every culture considers different ages to be special milestones. In Mexico the ages of 3 for both boys and girls, and 15 for just girls are considered to be the most important. 
 The 3rd birthday is symbolic within the Catholic Church. It is when many Mexican families will follow the tradition of the ´Presentación de Tres Años'. It is a presentation and blessing of the child to thank God for the wonderful gift of life and ask for their protection. It is generally a day-long celebration, including mass and a big family gathering.      
 More importantly however is when a girl turns 15. This age is considered to mark their transition from child to young woman. Traditionally it is a huge celebration, sometimes even bigger and more extravagant than a wedding and will include choreographed dances between the father and daughter, toasts by parents, friends and god-parents and a cake cutting ceremony. The birthday girl generally wears an elaborate ball-gown style dress with a tiara and guests get all dressed-up. It is still very popular although now-a-days some girls prefer to opt for an overseas trip with friends or a new car, instead of the money being spent on a big party.