Mexican Beans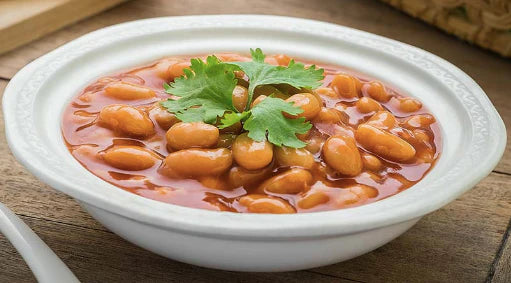 I for one am a great fan of beans. There is nothing like a good bowl of beans to warm you up and fill your tummy on a cold winter day. They are not only delicious and cheap to make but extremely healthy and packed full of nutritional benefits... so it's win, win, win!!! Mexican frijoles (pinto beans) are basically made up of carbohydrate, fiber and protein, with a mighty good dose of vitamins and minerals to boot. They are rich in antioxidants, help to improve blood sugar intake, lower cholesterol and blood pressure levels and are even believed to promote weight loss. Do I need to convince you any more?!
Bean stews can be cooked many ways but the most traditional method is by using a Mexican Pot (Olla de Barro). This is a pot made out of earthenware or 'clay' that is used to cook over a fire or any other direct flame (such as gas). Clay has the ability to hold heat inside the pot and to spread it out amongst its contents evenly, explaining why the tastiest beans and stews are made in this way. The Mexican pots are ideal for cooking pulses, beans, sauces, soups and stews as they release heat extremely slowly, helping to bring out a particularly good taste in food that is literally impossible to achieve with a metal pot.
A traditional Mexican Pot
Olla de Barro
Mexican pots are handcrafted and hand painted and support the continuation of a long-standing art and craft tradition in Mexico. Some of the oldest pieces of pottery found in Mexico date as far back as 4500 years ago, yet thousands of Artisans in Mexico today continue to make their living from crafting and selling pottery. Mexican potters still follow traditional methods for the extraction of clay from their local clay mines. Once extracted the clay is then dried out in the sun, ground down to a fine powder and sieved several times. This fine powder is then mixed with water and kneaded to make the clay for the pots. The artisan will generally do this sitting down on the floor of his workshop and the clay is then left to rest for 24 hours before molding. Once molded the pieces have to be dried and then fired in a dome-shaped oven for over 3 hours, where the pieces are stacked one-on-top of the other in the top half of the oven. Wood is burnt in the bottom chamber until eventually temperatures reach over 1000 degrees Fahrenheit. After firing the pieces are glazed and often hand-painted with beautiful floral designs. When the glaze has dried the pieces are fired for a second time. This whole process takes approximately between 15 and 20 days.
A Mexican Artesan working in his taller
Looking After Your Mexican Pot
Ideally you want to cure ('curar') your Mexican Pot before using it for the first time. This may seem unnecessary but it will prevent your pot from breaking and help it to resist high temperatures and long cooking periods over the stove. There are many ways to do this. The method I most recommend is to rub a clove of garlic on the inside and outside of the pot, then fill it up with water and bring it to the boil for at least half an hour (if you are patient enough you can wait until the water has completely evaporated). If not, tip the water out and allow the pot to cool down by itself. You should never put a hot pot under cold temperatures or vice versa, they should be heated up or cooled down slowly.
Using your Pot
There are so many delicious recipes you can make with your pot. One of the simplest is Frijoles de La Olla (Mexican Pinto Beans).
MEXICAN PINTO BEANS
Mexican Frijoles de la Olla
Ingredients
½ kilo frijoles (pinto beans)
Water (enough to keep the beans well covered at all times)
½ onion (roughly chopped)
2 cloves of garlic (lightly crushed)
1 tbsp butter or lard (optional)
salt (to taste)
Method
Leave the beans to soak in water overnight*
Drain the beans the next day and rinse as many times as necessary until the water runs clear
Fill the pot with water, add the onion, garlic and butter and bring to the boil
Once the water starts to boil add the beans and stir frequently
Keep a pot of hot water close by and add water to the beans whenever needed**
After about 1.5h the liquid will become a little thicker. This is when you want to reduce the cooking temperature to minimum and add a pinch of salt
You can test to see if the beans are cooked by seeing if you can squash one easily between your fingers
* Before you put the beans in water it is advisable to sort through them and discard any broken beans or bits of dirt that may be mixed in amongst them.
** Ideally the beans will always be well covered with water. This will avoid them burning, sticking together or drying out!
Serve the beans up in a bowl and accompany them with a tortilla wrap!